---
who are we

?
We're Bertrand and Eric Poncet, two brothers hailing from Paris, France. We share a passion for producing and performing music, having spent over 10 years playing and touring the world together, while also producing our own music.

Working on our own music has given us a deep appreciation for the importance of perfection in music production and means that we truly understand the level of quality expected by fellow musicians. This is what motivated us to create Alias Studio in the first place.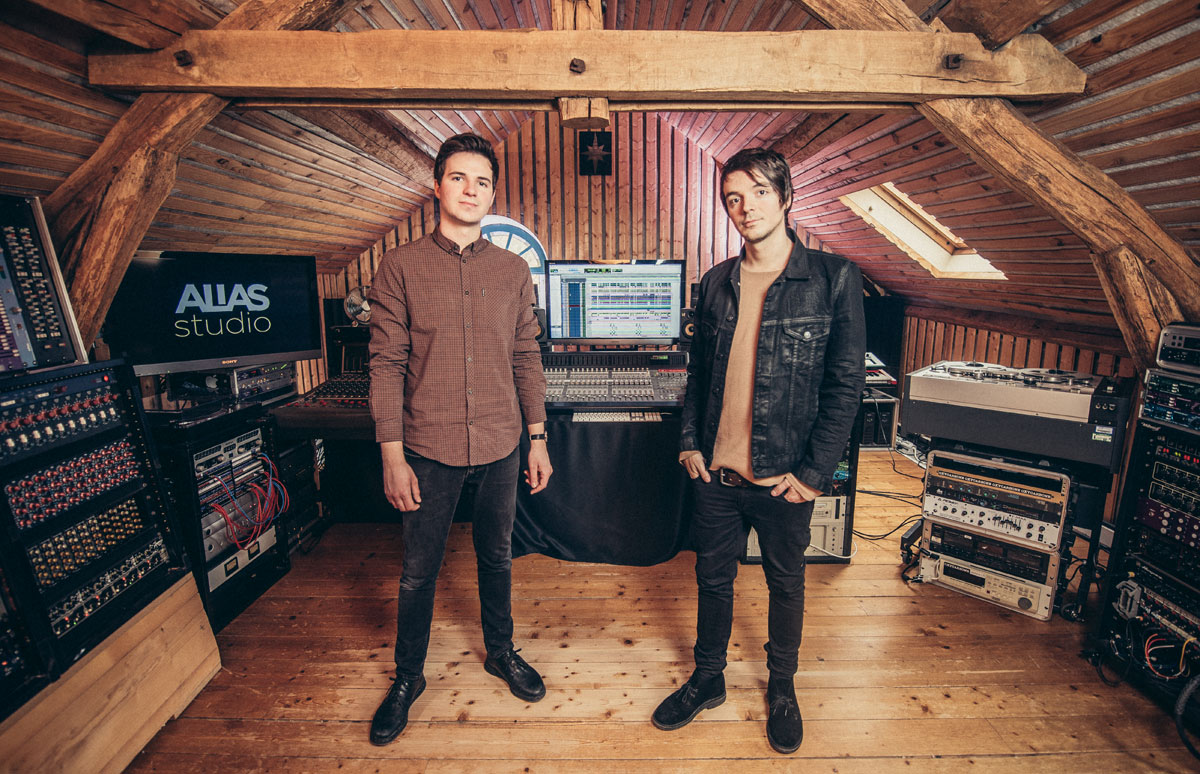 our

philosophy
Music production is constantly progressing and home recording is becoming increasingly popular. As musicians ourselves, we understand how costly professional studios are. This can really pose a problem, especially when you're a new and upcoming artist. That's why we decided to offer a different approach to music production, with a variety of services for all kinds of budgets. We're happy to adapt to our clients and not simply offer a generic set price or service. Whatever the size of your project or how you choose to record your music, our focus is always on you, the artist, and on respecting your choices.

Our innovative approach to music production provides a much-needed service that allows artists and bands to record their tracks from home before trusting us to handle the rest of the production. Working in this way reduces the overall cost for the artist by avoiding the vast expenses of booking time in a professional studio, travel, accommodation, and so on. In this way, we work with the artist to create a professional and affordable sound that never compromises on quality and is never limited by distance.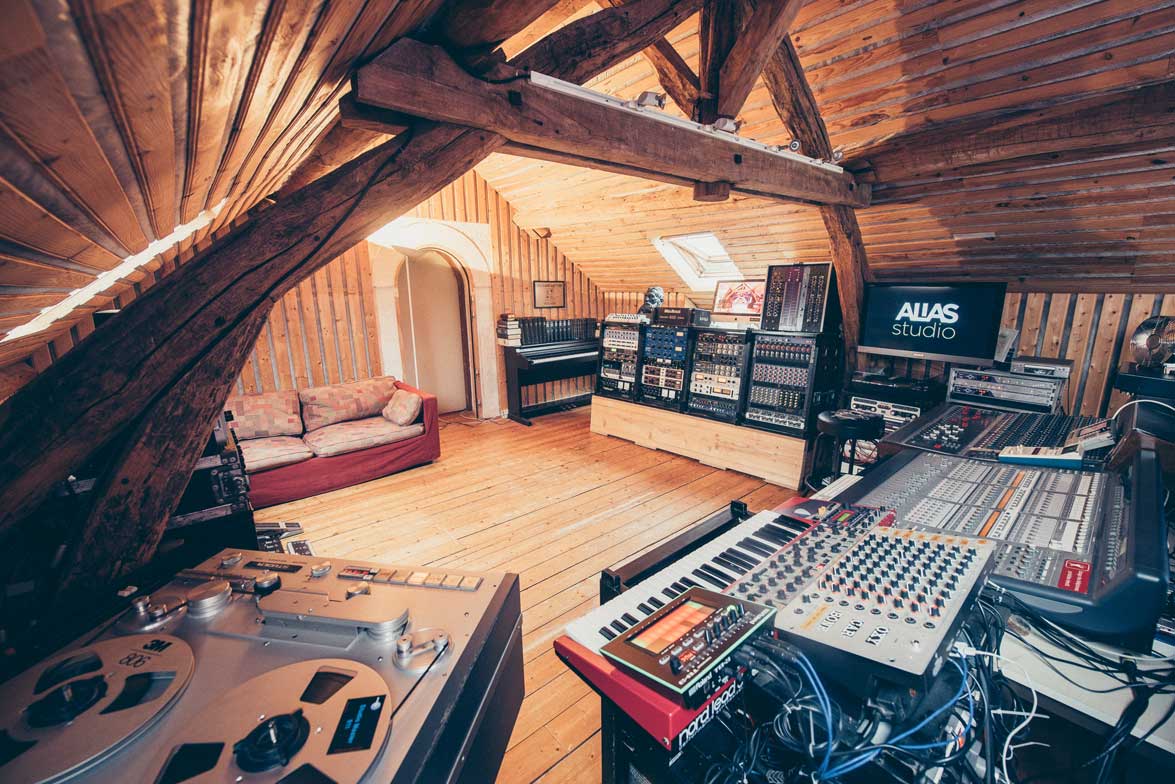 the

studio
Alias Studio is hosted by L'Orangerie, a high-spec recording studio conveniently located near Paris. It is extensively equipped with high-end gear distributed across three separate rooms: the control room, the live room, and the acoustic room.

The studio can be found within a historical building that has been specifically restored for making and recording music. Set in leafy surroundings and encircled by dreamy countryside, it is the perfect backdrop for creativity and productivity.
---
System
DAW : ProTools HD3 / Cubase Pro 9
Converters : Apogee AD16 et Rosetta 200 / SSL Alphalink / Digidesign 192 i/o x2 / Digidesign 192 Digital i/o
Tape Machine : Studer A 80 mk2
Clock : Apogee Big Ben / Digidesign Sync i/o
Patch : Bantam 768 points
Plugins : Waves Mercury bundle / Antares Autotune Evo / Melodyne Editor, etc.. 250 plugins TDM / 350 native plugins
Virtual Instruments : NI Komplete 9 ultimate / Toontrack Superior Drummer / Digidesign Strike, Velvet
Microphones
Neumann : U48 / KM54 x2 / U87 Original x2 / TLM 103 x2
Brauner : Valvet
Royer : R121
Audio Technica : AT 4033 x2 / AE 2500 / AE 3000 x3
Electrovoice : RE-20
AKG : D112 / C451 x2 / SE300b x2
Beyer Dynamic : M88 / Opus 87
Shure : Beta 52 / SM57 x5 / SM58 x3 / Beta 87A / SM81 x2
Sennheiser : E602 / E604 x3 / E609
Prodipe : Ribbon One x2
Subkick : DIY EX0v1
Mixers
Console : Studer 902 - 32 (12+8+2)
Control surface : Digidesign C24
Summing Mixer : SPL Mixdream
Processors
Preamps / EQ :
IJ Research : Neve 1073 + 1084 EQ + 1176 (format 500) x10
SSL : 4000 G channel strip x2
Neve : V2 channel strip / 1073 DPA
Universal Audio : 6176 x2
Thermionic Culture : Culture Vulture
Aphex : 207
Studer : 902 x12
Manley Lab : Stéréo tube DI
TL Audio : 5013
Orban : 622B
Klark Teknik : Square One Graphic

Dynamics :
GML : 8900
Empirical Labs : Distressor ELX8 x4
Chandler Limited : EMI TG-1
Urei : LA-4 x2 / 1178
Studio Electronics : C2
Tubetech : CL1-B x2
Thermionic Culture : Phoenix x2
Waves : L2 Ultramaximizer
Publison : CL20 C
Neve : 32253 Limiter
Orban : 526A
Drawmer : DS404 / MX40
TC Electronic : Finalizer 96k

Effects :
Lexicon : 480L / PCM 91 / PCM 70
TC Electronic : Reverb 4000 / D-Two / Fireworx x2
Roland : Dimension D
Line 6 : EchoPro x2 / ModPro x2 / FilterPro
Soviet Vintage Delay : LM 1229 Red Oktober
DBX : Sub harmonic 120 XP
Dytronics : CS-5
Backline
Pianos / Synths :
Steinway : 1875
Gaveau : 1930 upright
Nord : Nord Lead 3
Yamaha : Clavinova CLP-155
Akai : Analog sampler S6000
Farfiza : Matador
Vermona : DR-MKII
Boss : DR-770
Roland : TB3

Guitar Amps :
Kemper Profiler
Mesa Boogie : Dual Rectifier x 2 / Triaxis / Quad Preamp / Strategy 400
Marshall : JCM 800 original
Echolette : Showstar original
Roland : Jazz-Chorus 120 original
Sound : Thunder 60 original
Fender : Performer 1000
Soldano : X88R
Pedals : Boss, Vox, SansAmp, Electro Harmonic, Line 6...
Mesa Boogie : cab 2X12 x2
Marshall : cab JCM 800 4x12
Sound : cab Thunder 3x18
Fender : cab Performer 1000 2x38)

Bass Amps :
SWR 400
Ampeg : SVT III pro
Epifani : cab 4x12
Hartke : cab VX 4x10
Speakers
NHT Pro 3 voies + 2 sub / Adam A7X / Yamaha HS 80 / KRK V4